We call her melody queen of India, she is truly amazing and one of the best singers in India. She is classically trained Bengali girl. She is sweet sounding Shreya Ghoshal.
Today we all know Shreya Ghoshal as a singer who gets top most songs in Indian music including Bollywood, Tollywood and other regional music industries. A singer who is self-made, and has a euphonic voice. A singer who is well trained by experts and legends from 60s to 90s.
Shreya Ghoshal
12 March 1984, West Bengal, India
Winner of Saregamapa Show (1995).
# Evolution of Shreya Ghoshal
Let's have a quick look at her timeline.
In the beginning she started taking singing lessons at the age of 4 (in around 1988).
In 1995, she took part in Zee Sa Re Ga Ma Singing Competition which was hosted by Sonu Nigam and judged by legends of that era and she won the show.
She got noticed by Sanjay Leela Bhansali, so she got songs of Devdas movie. All quality songs in this movie with a huge star cast and big budget.
Then, there was songs from Jism movie (my personal favourite, Jaadu hai nasha hai)
A lot of concerts and consistently giving hits with her voice..
Continuing the hits and concerts all over the world.
In the 2012, she got Padma Shree award.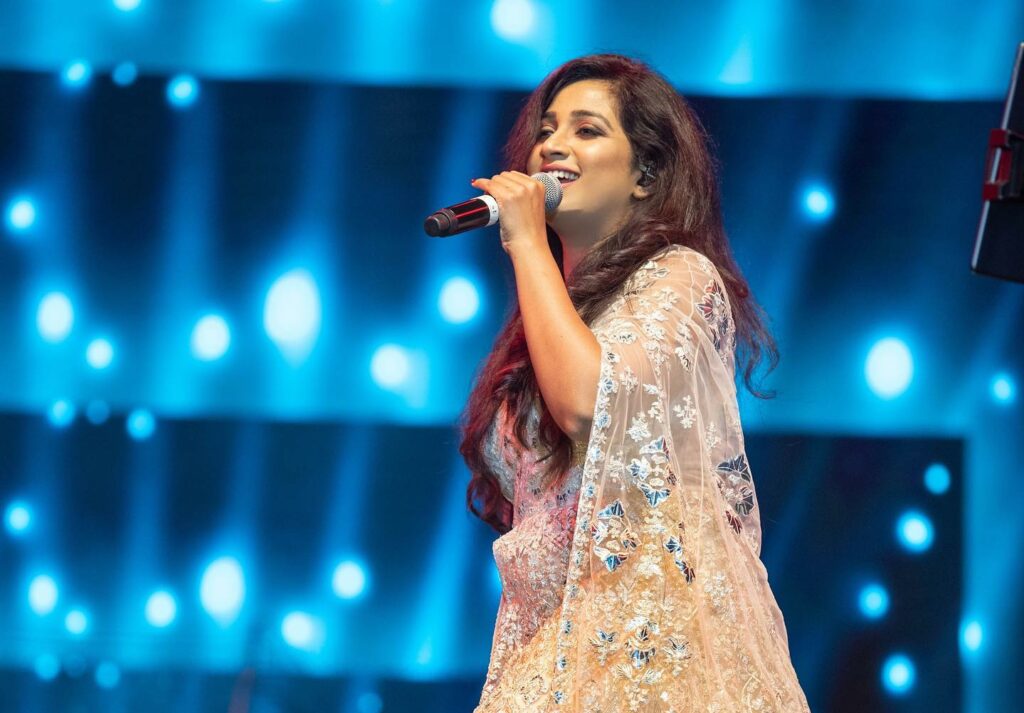 # Shreya Ghoshal being the first choice of music directors
Shreya Ghoshal has ability to sing any kind of song, be it classical song, funky number, dance number, sad song, be it anything. This has let her be flexible to any kind of genre.
The voice of Shreya has a nice sweet texture, and perfect sound that one can hear continuously. She is called queen of sweet voice in Indian Music. The voice she has is the original voice and many singers have been influenced and inspired by her such as Palak Muchhal, Anwesha, Abhilash Chellum, etc.
Not only Hindi songs, Shreya Ghoshal is giving hits in South Indian songs, such as Telgu, Tamil, Kannada, Malayalam Songs. Some other regional hits she is giving in the Marathi Music Industry such as Ajay-Atul music.
I wonder how she achieved the same success in other film industries.
I had attended Shreya Ghoshal's live in concert in Pune back in 2016, it was great. As a witness great live singing of hers, I can say she is the most talented and audience engaging entertainer and performance kind of on the same lines as Sonu Nigam's performance in the live concerts.
# Some of Shreya's best songs (Non-Hindi)
Here are my personal favourites of Shreya from South and Marathi Music.
Munbe Vaa Song
Kanasalu – Mungaru Malaye
Thanmayaladenu
Adhir Man Jhale
Roj Roj Navyane
Jiv Rangla Dangla Rangla Asa